SMALL GROUP ECO TOURS
Ningaloo Reef | Western Australia
Join our local guides for a unique experience exploring beautiful UNESCO World Heritage-listed Ningaloo Reef. Exmouth Adventure Co specialises in small group eco tours based out of Exmouth, Western Australia.
Sea kayak Ningaloo: imagine gliding silently over clear turquoise waters in your sea kayak, whilst spotting some of Ningaloo's abundant wildlife like turtles, rays, and schools of colourful fish. Your snorkel and mask are at the ready so you can explore the stunning coral reefs and marine life. Get off the beaten track and immerse yourself in the real Ningaloo on our small group sea kayak and snorkel eco tours.
We have an extensive range of hire equipment to kit you out for self-guided Ningaloo Reef adventures: single and double kayaks, snorkel gear, SUPs and surfboards. Ask our friendly, knowledgable staff for recommendations on where and when to go.
OPEN ALL YEAR ROUND FOR TOURS & HIRE
Small Groups - Big Adventures
TURTLE TOUR
HALF DAY SEA KAYAK & SNORKEL TOUR
Explore the northern reaches of Ningaloo Reef Marine Park, close to Exmouth town. Paddle the sheltered waters of the Bundegi Sanctuary zone and snorkel from your sit-on-top kayak. Our half day Turtle Tour takes advantage of the tides to explore this wildlife rich area, part of the area known as Ningaloo's wildlife nursery, Exmouth Gulf. This tour is family-friendly, operates all year round, and is a whole lot of fun!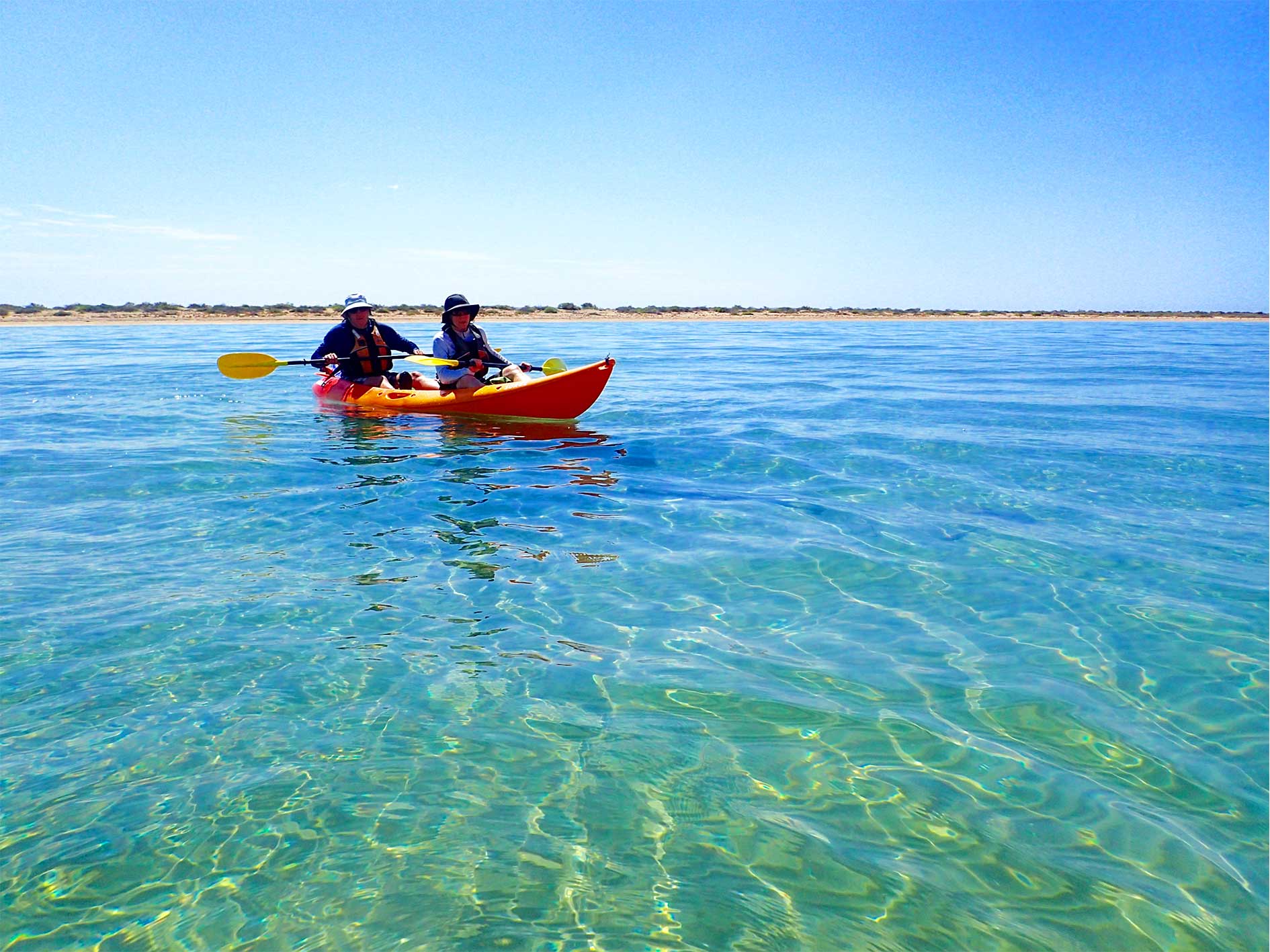 CORAL BY KAYAK
HALF DAY SEA KAYAK & SNORKEL TOUR
Explore beautiful Ningaloo Reef and the amazing coral formations of the Tantabiddi Sanctuary Zone by kayak on our half day kayak & snorkel Coral By Kayak tour. Enjoy the exhilarating experience of kayaking out to a snorkel site and snorkelling from your kayak. You'll be amazed at the diversity of coral formations and fish life - with over 300 species of coral and 500 species of fish calling Ningaloo Reef home, there's always something different to see!
LAGOON EXPLORER
FULL DAY SEA KAYAK & SNORKEL TOUR
Travel with us into Cape Range National Park to paddle and snorkel amongst the turquoise lagoons of Ningaloo Reef. Our Lagoon Explorer is a great way to experience the stunning beauty of Ningaloo Marine Park, above and below the water. We have access to a number of different sites on this tour, with your guide choosing the best option on the day, taking into account the prevailing weather conditions.
NINGALOO IN A DAY
FULLY GUIDED GORGE HIKE AND REEF SNORKEL TOUR
Join us for a fully guided day tour, exploring the highlights of Ningaloo Reef and Cape Range National Park - the best of reef and range, all in one day. The tour includes a guided hike at Yardie Creek Gorge, a guided snorkel experience at Turquoise Bay, freshly prepared picnic lunch at Milyering Visitor Centre and a photo opportunity at Vlamingh Head Lighthouse
3-DAY REEF & BEACH TOUR
SEA KAYAK, SNORKEL AND BEACH CAMPING TOUR
The ultimate way to experience the best of Ningaloo Reef! Immerse yourself in Ningaloo Marine Park and Cape Range National Park on this 3 day, 2 night camping tour. Our 3-day Reef & Beach sea kayak, snorkel and beach camping tour is an 'expedition style' tour: you will carry all your gear in the kayak with you as you explore turquoise lagoons and snorkel different world-class sites each day. Pull up on the beach in the afternoon to make camp amongst the sand dunes. Want to get away from it all and have an off-grid adventure? This is the tour for you!
5 DAY ULTIMATE SAFARI TOUR
SEA KAYAK, SNORKEL, GORGE HIKE & BASE CAMPING TOUR
The ultimate way to experience the best of reef and range! Immerse yourself in Ningaloo Marine Park and Cape Range National Park on this 5 day, 4 night camping tour. Our 5-day Ultimate Safari sea kayak, snorkel, gorge hike and base camping tour is a 'comfortable camping' tour: after each day of exploring stunning lagoons and world-class snorkelling sites, you will return by vehicle to our well-equipped base camp (think stand-up tents, solar showers, and well-stocked camp kitchen). Want to have a comfortable camping adventure in an iconic location where all the small details are taken care of for you? This is the tour for you!
Prefer to do your own thing? Hire sit-on-top kayaks, stand up paddle boards (SUPs), soft surfboards, snorkelling gear, sun shelters and camping gear from our base at 7 Craft St in Exmouth. Whether it's a leisurely paddle up stunning Yardie Creek; riding some gentle waves at Wobiri Beach; or kayaking in the Osprey, Tantabiddi or Bundegi Sanctuary Zones and snorkelling from one of the dedicated 'Kayak Only' snorkel moorings, we've got your Ningaloo adventures covered! We offer FREE, friendly advice and local knowledge on the best places to explore.
SCHOOLS, YOUTH, CORPORATE
With 20+ years of experience in designing and facilitating school, youth, and corporate programs, we can help put together a program to suit your desired outcomes and budget. Whether the focus is leadership, Duke of Edinburgh, Outdoor Ed, team building, end of year rewards or just plain old outdoor fun, we're here to help. Previous programs we've run include multi-day sea kayak, snorkel and camping expeditions, learn to surf programs, Leavers activities and Duke of Ed expeditions. Contact us for more info.
A visit to Exmouth and Ningaloo Reef opens up an amazing array of adventure opportunities. Whether it's swimming with a majestic Whale Shark, marvelling at the Reef from above on a microlight flight, or experiencing outback hospitality on a station stay, there's no better way to experience Ningaloo Reef and surrounds than with passionate locals that are proud of where they live and love sharing it with others. Here at Exmouth Adventure Co., we've partnered with other great local businesses that share our ethos.
Discover images and share memories from your tour with free tour photos available for download via Flickr
Customer Reviews and Recommendations
Office open 7 days
 8.30am - 4.30pm
After hours HIRE available by prior arrangement