ULTIMATE SAFARI TOUR
5 Day Sea Kayak | Snorkel | Bushwalk | Base Camp Tour
The 5-day Ultimate Safari tour is the ultimate way to experience the best of what Ningaloo Reef Marine Park and Cape Range National Park have to offer. Spend 5 days sea kayaking along the World Heritage-listed Ningaloo Coast amongst the sheltered, turquoise lagoons, visiting numerous snorkel sites along the way. You will travel in a one-way direction with the prevailing breeze, and return by vehicle each night to our comfortable base camp. Take some short bush walks to explore the stunning gorges of Cape Range National Park, and visit the Milyering Visitor Centre.
As the only Exmouth-based tour operator offering a fully guided overnight camping experience in Cape Range National Park, we offer a uniquely local and personal experience of reef and range.
---
ACTIVITIES INCLUDED IN THIS TOUR
Sea kayaking in double sit-inside sea kayaks | Snorkelling | Bush walking (gorge walking) | Comfortable camping at a base camp
DURATION
5 days/4nights. The tour starts with pick up from your Exmouth accommodation just before 8am on Day 1, and concludes with drop off at your Exmouth accommodation around 4pm on Day 5.
Please note that you will be required to attend a pre-trip meeting/gear fit at our premises at 24 Pelias St, Exmouth, out on the afternoon before tour departure at 4pm.
TOUR INCLUSIONS AT A GLANCE
Transport, national park entry and camping fees | Sun protection gear: long sleeve sun shirts (rashies), broad brim hats | Snorkelling gear: Quality snorkel and mask, fins, wetsuits in cooler months | Kayaking safety equipment and qualified guide | All food and non-alcoholic drinks (BYO alcohol) | All camping gear | Dry bags | Photos taken by your guide
SEASON
Late April to early October
LOCATION
Cape Range National Park and Ningaloo Marine Park. On this tour, we usually paddle between Yardie Creek in the south and Ned's Camp in the north over the course of 5 days, snorkelling numerous sites along the way. We also take a guided morning walk at the spectacular Mandu Mandu Gorge, and enjoy sunset rock wallaby spotting at Yardie Creek Gorge
PRICE
Adult $2190| Children (12-17) $1880 | Family (2 adults and 2 children) $6919* | Extra child (on top of family price) $1598*
* Prices valid for direct bookings only (family rates are not available for agent bookings). Please contact us for other family/group pricing
All pricing is on a twin-share basis. For those wishing to have a private 'solo' tent, a $100 single supplement applies
A 30% despot is required on booking, with balance payable 30 days prior to departure
TOUR NUMBERS
This tour will run with a minimum of 4 participants and a maximum of 16 participants, plus guides and volunteers.
TOUR LIMITATIONS
Our kayaks have a maximum weight limit of 110kg/person. Minimum age for this tour is 12 years old. This tour involves a moderate level of physical activity, lifting of equipment, and walking on uneven ground and soft sand. Participants must be capable of lifting at least 15 kg. Tour departures are subject to weather conditions and minimum numbers
TOUR MEETING POINT
Day prior to departure: Pre-trip meeting/gear fit out at 4pm at EAC base, 24 Pelias St, Exmouth.
Day 1 of tour: Pick up from Exmouth accommodation starting at 7.45am, or meet at our base at 24 Pelias St at 7.30am. Free on-street parking is available at our base, or secure parking is available inside our fenced yard for $10/day
Please get in touch to enquire about dates and availability. Last-minute enquiries, custom, solo and group bookings are welcome.
Sea kayaking is a unique and intimate way to immerse yourself in this beautiful World Heritage area. Explore a different section of pristine Ningaloo coastline every day in your double sea kayak. Vehicle support means we paddle a different section of stunning coastline daily, never covering the same ground twice. Spot turtles, rays and schools of fish from your kayak; sometimes we see dolphins and dugong. Crystal clear turquoise waters are a trademark of the lagoons at Ningaloo; yes it really is that colour!
Snorkel different, amazing sites each day. With over 500 species of fish and 300 species of coral at Ningaloo, there's always something different to see. As well as the traditional 'shore-based' sites such as Turquoise Bay, Oyster Stacks and Lakeside, discover other sites you won't find on any map. We also take the opportunity to snorkel from the kayaks where possible. The snorkelling is world-class: you will be amazed at the diversity and abundance of marine life at Ningaloo!
Return each afternoon by vehicle to our comfortable base camp, located within Cape Range National Park. Your spacious tent is already set up for you when you arrive, and camp is equipped with picnic tables and shade shelter, fridge, solar showers and toilet. The beach is only 300m away via a sandy trail: perfect for a sunset drink or perhaps a sunrise yoga session.
Join us for some guided bush walks and marvel at the ancient landscape and stunning views of Mandu Mandu Gorge and Yardie Creek Gorge. The Yardie Creek Gorge trail is a spectacular 2km return walk along the edge of the only permanent water source in Cape Range. We usually enjoy this walk in the late afternoon to spot the rock wallabies as they emerge from the cliffs to feed and take in a west coast sunset. Mandu Mandu is a dry gorge that also supports a population of black-flanked rock wallabies. The 3km loop walk offers up some fantastic views of the reef and range.
SEA KAYAKING AND SNORKELLING
The sea kayaking takes place inside the fringing reef, where the lagoon is rarely more than 3m deep - perfect for spotting wildlife and snorkelling. After your guide gives you the all-important paddling instruction and safety talk, we launch the kayaks and travel along the coast at a relaxed pace, stopping on secluded beaches for morning tea and lunch as we go. We plan to travel with the prevailing breeze, and usually cover between 5 and 12 kms per day - depending on what other activities we enjoy for the day. A different section of coastline is covered each day, offering new sights, more pristine beaches, and unique snorkelling experiences.
Every day provides fantastic snorkelling opportunities. At some sites we land the kayaks on the beach and swim a short distance from shore, at other sites we anchor or moor the kayaks and slip over the side. We have discovered some excellent 'un-named' snorkel spots that are accessible only by kayak.
In the afternoon we lock up the kayaks on the beach, and return by vehicle to our base camp, which means you only have to carry what you need for the day in the kayak with you. At our comfortable base camp, you can take a solar shower, raid our comprehensive library of reference books to identify all the amazing critters you've seen that day, grab some snacks and a drink and settle in for a west coast sunset, or just relax and reflect on the beauty of your surroundings.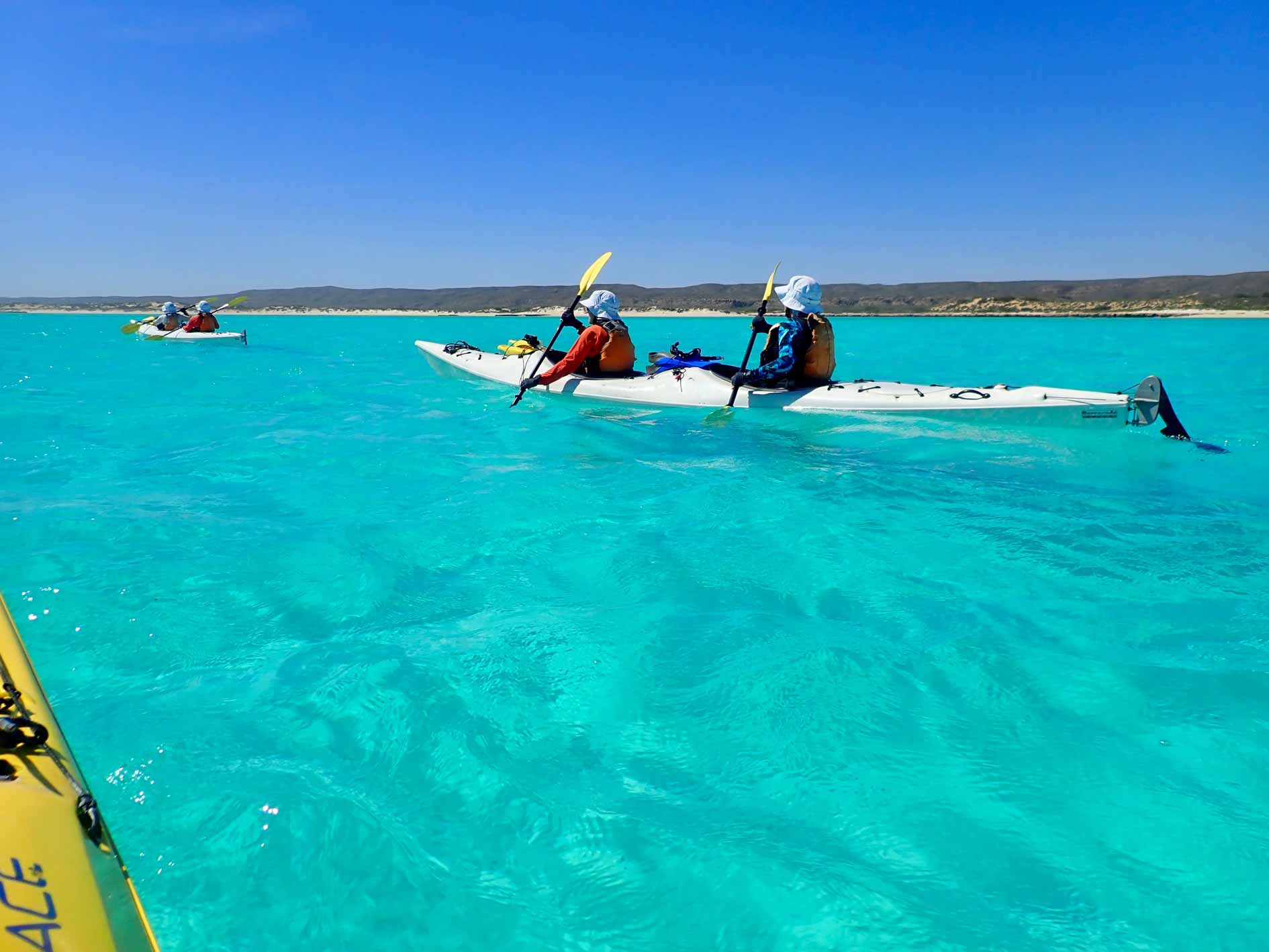 5 DAY ULTIMATE SAFARI BASE CAMP
These 5 day tours are perfect for the person wanting to have an active holiday whilst still escaping to a relaxing place. Each night we camp out in spacious, stand-up tents under the stars, yet have the convenience of our vehicle and camper trailer at base camp - so camping and cooking is comfortable and easy. Our base camp is equipped with picnic tables and camp chairs, gas cookers, fridge, shade and wind shelter, toilet and solar showers: all the gear we need for comfortable camping. Your tent is set up prior to arrival, with a high density foam mattress, sheets, pillow and doona. At the end of each day of kayaking and snorkelling, we drive back to our base camp, enjoy a fresh water wash, and over a few drinks and nibbles, enjoy the sunset. Tents are twin share; if you would like your own solo 'private' tent, a $100 single supplement applies.
Base Camp is also close to some great bushwalking locations. We usually do the Yardie Creek walk and Mandu Mandu Gorge walk, as well as taking a visit to the National Park Visitor Centre at Milyering. This tour is the complete package for those wishing to explore Ningaloo Reef and Cape Range National Park!
Double sit-inside sea kayaks with rudder for comfortable cruising, paddles
PFDs (life jackets)
Long sleeve sun shirts, broad-brim hats
Snorkelling gear: snorkel, mask and fins, wetsuit in season
Gloves (fingerless paddling gloves are great for sun protection and blister prevention)
Dry bags
Comfortable camping gear: tents, swags, pillows, sleeping bags and liners, camp chairs, camper trailer with fridge, wind and shade shelter, picnic tables, toilet and solar showers
Healthy and delicious food and non-alcoholic drinks (byo welcome)
Transport to and from Cape Range National Park
National Park entry and camping fees
Qualified and experienced guides
Complementary tour photos taken by your guide
Drinking water bottle (capacity for at least 1 L)
Sunglasses (polarised are great for seeing under the water)
Sunscreen, zinc or SPF lip balm - please consider using reef-safe sun protection products
Bathers/boardshorts
Camera (+ spare batteries, charger)
Towel or sarong. A lightweight sarong can be great to drape over the legs for added sun protection
Footwear that may get wet (crocs, sandals etc)
Bushwalking clothes: enclosed footwear (sneakers, hiking shoes/boots), shorts or lightweight trousers, t-shirt or lightweight long-sleeve shirt, daypack for carrying water and camera
Head torch (+ spare batteries)
Drinks for sunset happy hour - we have an ice box available to keep drinks cold
Camp clothes: shorts and t-shirt, warm long pants and jumper/hoodie. From May onwards you will need to pack warm clothes/layers for cool, clear nights: thermal layers, beanie, puffer jacket, our guides even bring their 'camping ugg boots' during winter!
Toiletries: As we are camping within a World Heritage area, please endeavour to bring biodegradable personal care products (soap, shampoo/conditioner)
You can bring fishing gear too, however this is not a focus of our tours (please use lures rather than bait). Our camp is located within a Sanctuary Zone, where no fishing is allowed.
I'd like to bring the whole family. Is this tour suitable for kids?
Minimum age for our multi-day tours is 12 years old. We have had younger children join our 5 day tour in the past, it really depends on the activity level of the child, and also the parent - as the parent, you will be doing the majority of the work in the double kayak if you are paddling with a child under 12. Please contact us if you wish to discuss.
I'm not a strong swimmer, and have never snorkelled before. Am I able to join this tour?
All levels of swimming ability are welcome. All of our guests wear PFDs (lifejackets) whilst kayaking and are welcome to wear them whilst snorkelling if needed. Our guides will run through the basics of snorkelling and are great teachers! However in order to fully enjoy this tour, and not impede the enjoyment of other guests, we recommend having at least a basic level of swimming and snorkelling competency.
How many people will be on this tour?
We need a minimum of 4 people to confirm tour departure, and take a maximum of 16 guests, plus guides and volunteers.
How far will we kayak each day? Do I need to be an experienced sea kayaker?
We usually paddle anywhere between 5 and 11 kms over the day, depending on other activities planned for the day (gorge walking), how the group is travelling and prevailing weather conditions. The daily itinerary is designed so that we travel with the prevailing breeze. We aim to provide the opportunity for 2 snorkels at different locations throughout the day. This, along with stops on the beach for morning tea and lunch, means that the paddling is broken up into manageable sections, with usually no more than 1 hour spent in the kayak at any one time. No previous sea kayaking experience is necessary, however we recommend having at least an average level of fitness and mobility to enjoy this tour. Our guides will give you the skills you need to safely paddle your sea kayak, as well as handy hints and tips along the way.
What style of camping will I experience?
This tour is 'base camp' style, meaning we return to the same comfortable camp site every afternoon via vehicle. The camp is equipped with a drop toilet, solar showers, fridge, sheltered communal area, and lockable storage rooms. Tents are set up prior to your arrival, and are spacious tents that you can stand up in. Tent accommodation is twin-share; if you would like your own private tent, a $100 single supplement applies.
I'm vegetarian/gluten free/have allergies. Can you cater for this?
Yes, as long as we have ample notice, it is no problem catering for specific dietary requirements, intolerances and allergies.
How can people contact me while I'm on the tour?
There is limited mobile phone reception in the tour area, we carry a satellite phone for emergencies. This is usually reserved for outgoing calls only (to preserve battery life). If you need to be contacted urgently, our office can be contacted on 0477 685 123, and if necessary, someone will drive out to deliver a message.
Can I recharge my devices whilst at base camp?
Limited facilities are available at base camp for charging of devices. Our camp is 'off-grid'; all of our power for running our fridge etc comes from a dual battery set up, topped up by solar power. We ask that you please arrive with your devices fully charged, and switch phones to 'flight mode' once at camp (as there is no phone reception here) to save battery. Please bring spare batteries if you have them, and USB charging cables
What is this tour's Cancellation Policy?
All tour cancellation or amendment requests must be received in writing. This tour has a 30 day cancellation policy. If you cancel your tour within 30 days of tour departure, the full amount of the tour will be charged, no refunds are given. If you cancel 30 days or more prior to tour departure, you will receive a full refund, minus any non-refundable booking fees or credit card processing fees. We advise you to take out travel insurance to cover the cost of the tour in the case of emergencies, travel delays or unforeseen changes. In the event of the tour being aborted once underway for unforeseen reasons, a possible partial refund will be considered upon application for full paying customers.
COVID Cancellation Policy
If you cancel due to COVID-related government restrictions beyond your control, more than 14 days prior to the tour departure, you will receive a full refund, minus any non-refundable booking fees or credit card processing fees. If you cancel within 14 days of tour departure, due to COVID-related government restrictions beyond your control, we offer a 70% refund, and 30% (or equal to tour deposit) will be issued as a voucher to re-book, with a 3-year validity. It is the customer's responsibility to ensure that they meet all government mandates and requirements for entry into and travel within Western Australia. If you cancel within 14 days of tour departure due not meeting government requirements for entry into or travel within Western Australia (for example not having a valid G2G pass), no refunds will be given.
View our full Terms & Conditions here
For information on getting to Exmouth, including Exmouth's location, and travel by air and road, visit our Getting Here page.
Office open 7 days
 8.30am - 4.30pm
After hours HIRE available by prior arrangement